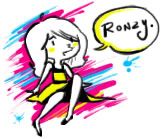 Hey everybody! I got myself a membersheeeeep to change my name. 636 points spent wisely... so many llamas.
Now I gotta change a lot of old watermarks I did in the past >8|
It's sad that I don't get to be as active as I used to 6 years ago (totally missed the christmas+dAniversary)
For those sweet darlings out there that still don't know I have this tumblr:
RonzyDays.tumblr.com
. It was part of my grand master plan to make myself draw everyday... failed. Because university. :C
Anyway how is everybody? Tell me about your awesome lives because you are awesome people. Yeah!!!!